• San Diego landscape
• design and installation
• Grading and drainage
• Retaining walls
• Concrete and masonry
• Pavers
• Automatic irrigation
• design and installation
• Water budgeting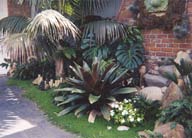 • Low voltage lighting
• Garden structures
• Water features
• Patios and decks
• Tree trimming services
• Erosion control
• Professional landscape
• maintenance division
About California Earthcare
Established for over 23 years, California Earthcare offers a full range of San Diego landscaping services for homeowners, home owner's associations, institutions and general contractors.
What we can do for you
• Give you the best value for your landscaping budget
• Improve the quality of your landscaping
• Increase the value of your property
• Help you conserve water and save money
• Create a natural setting that can give you an area of peace and tranquility

Owner James Doocy has over 25 years of experience in residential and commercial landscape work in San Diego, as well as in the wholesale and retail nursery trade. Professional memberships include:
• California Association of Landscape Contractors
• California Association of Nurserymen
• Better Business Bureau of San Diego
Our past clients include: SDG&E, Coronado Shores Condominiums, San Diego general contractors Nautilus, Gliko, McCormick, Zigman-Shields, Marathon, C.W. Driver, Integrity, over 20 property management companies, local hospitals Scripps Health, Kaiser-Permanente, government installations, Pardee Homes and Legoland.
References are available upon request. Please call us at (619) 236-0492 or email us for references. Se habla español.